How do I import my asset request process to Orchestly?
With Orchestly's prebuilt asset request blueprint, all you need to do is add your users, set up permissions for them, and you're ready to go. You can use the blueprint given below as it is, or modify it to suit the process at your organization.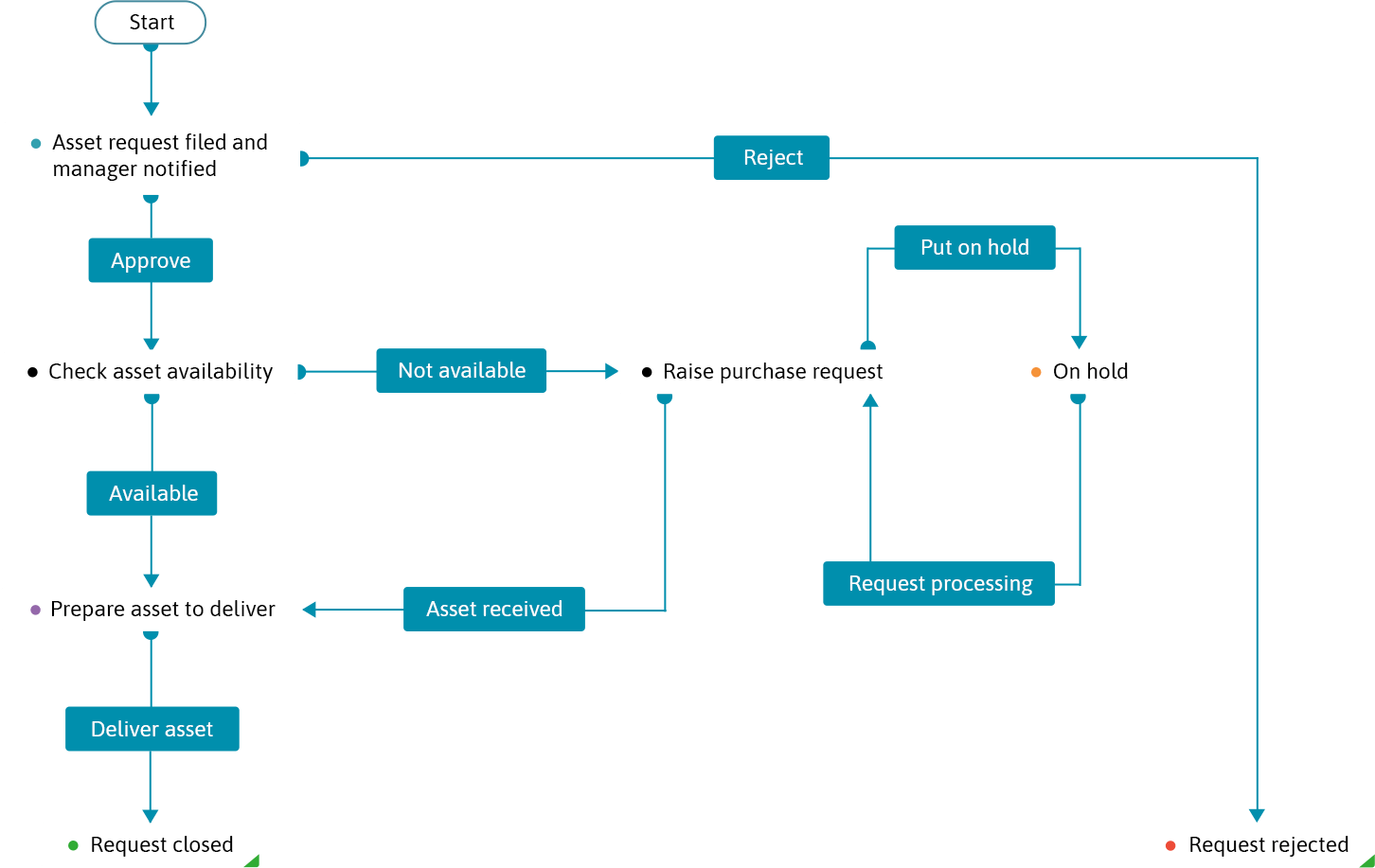 In this blueprint, the employee creates the request and fills out the form. Once the manager approves, the request is then sent to the IT team. The IT team takes stock of the available assets and pending requests, and prepares the asset for delivery. If the asset is unavailable, the IT team raises a purchase request for the asset and puts the request on hold. Once the IT team receives the asset, they deliver it to the requestor and close the request.
What are the benefits of automating the asset request process through Orchestly?
For the organization
For employees
For IT
For the organization
01

Eliminate asset waste

Keep track of inventory, avoid over-ordering, and re-allocate using the records maintained in Orchestly.

02

Enforce procedural allocation

Ensure asset allocation occurs only after the required approval is sought.

03

Establish transparency

Improve employee satisfaction by streamlining and adding visibility to the process, making it easy for every employee to get the assets they need.

04

Auto-trigger requests

When a new employee is onboarded, trigger asset requests automatically as a part of the onboarding process, using Orchestly.

05

Organization-level insights

Use the detailed reports in Orchestly to study asset request trends and stock assets accordingly.
For employees
01

Stay in the know

No more sending request emails and wondering whether it was seen. Get notified when the request is approved or rejected, and when it's completed.

02

Priority-based allocation

Got a last-minute, but very important request? Create a high-priority request, and get it addressed rapidly.
For IT
01

Visibility into requests

View every request from a common dashboard, and allocate or place orders based on the backlog.

02

Automated emails

Eliminate composing emails for every request by setting up email templates and automated notifications for status updates.

03

Comprehensive audit trail

Maintain records of assets given to every user throughout the organization, and keep track of all your assets.