Employee onboarding process template with Orchestly
Here's the blueprint we have created using Orchestly for a generic employee onboarding process. Yours can be much simpler or more complex, as per your needs.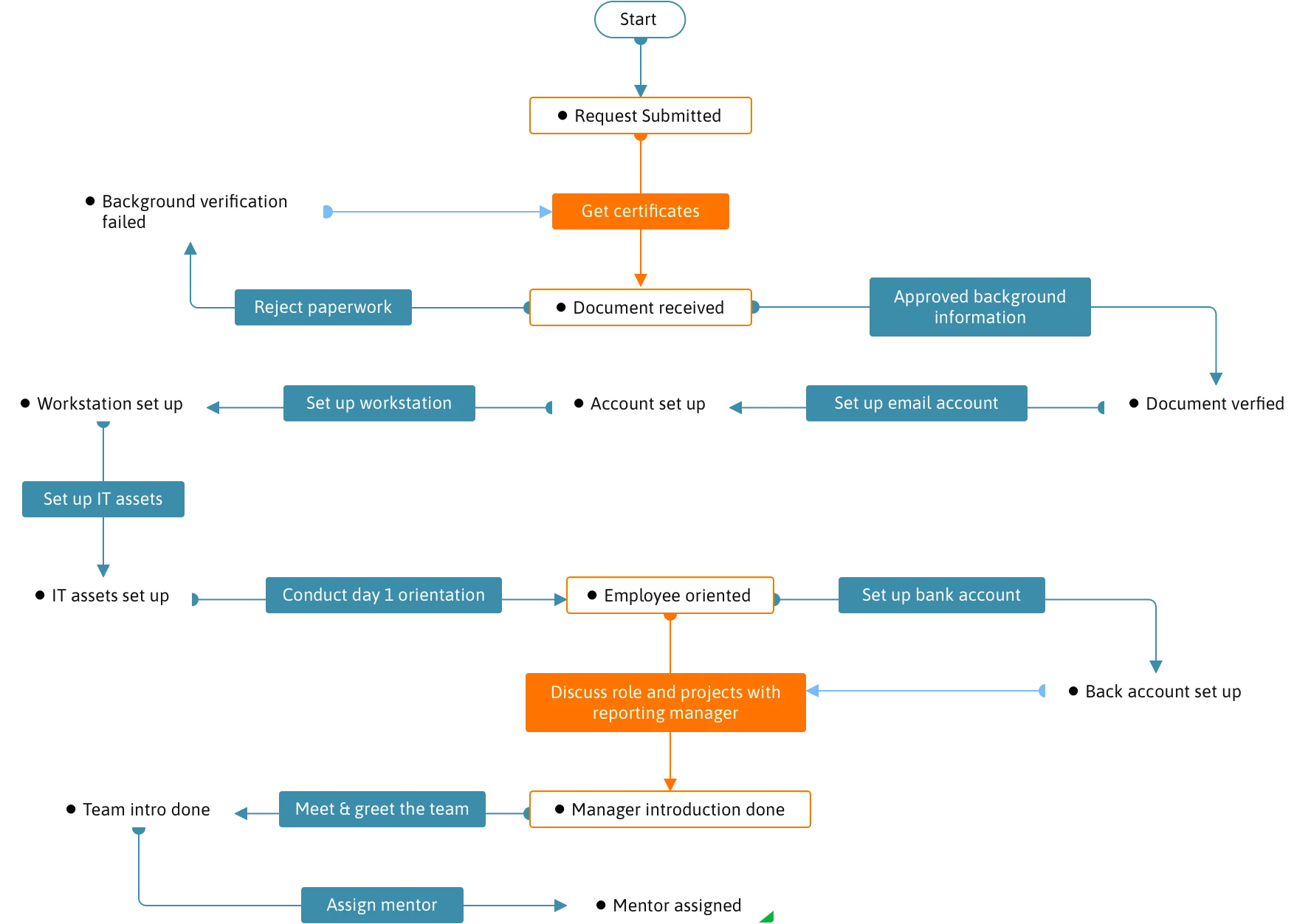 Automating employee onboarding with Orchestly
For HR
For management
For new hires
For HR
01

Hassle-free onboarding

HR can manage all employee onboarding in one place, making everyone's day more productive.

02

Cut the chaos

Automatic notifications let everyone know what has to be done, and when. This saves on time lost to miscommunication and emailing back and forth.

03

Stay on track

Filter work items to onboard employees with the earliest joining date, lateral entries, or any other criteria you may need.
For management
01

Set workflows on autopilot

Avoid silos, and eliminate the need to notify teams every time a task is completed.

02

Cut costs

Automate stages to reduce manual intervention and minimize administrative expenses.

03

Optimize onboarding

Understand which part of the onboarding process is wasting your time—paperwork verification, medical benefits enrollment, or something else entirely. Drill down to specifics and find out if the process needs a few tweaks, or if HR personnel need specific training.
For new hires
Get settled in smoothly, and focus on being a success story.
How to manage employee onboarding with Orchestly
Your employee onboarding can be just about the paperwork verification, or it could run for a week, a month, or even longer. You can set up a workflow as simple or detailed as you need.
01

Define responsibilities

Assign every stage to a particular employee, role, or team. Background verification should be done by HR, while IT assets must be set up by the sysadmin.

02

Get info when required

Ask for relevant information during the process. Get documents from candidates as attachments, and IT asset details from reporting managers.

03

Reduce human touchpoints

Automate stages using wait states. For example, you can automate the workflow to send the offer letter to the candidate, and wait for 10 days for a response before automatically rejecting the offer.

04

Automate alerts and notifications

Send alerts to the reporting manager about the employee onboarding status via SMS, or notify via any third-party app using webhooks.

05

Automate stages

Write custom functions in Deluge to automatically perform any business logic, like creating a function to automatically add new employee email addresses to all relevant email lists.

06

Add extensions

Use code to install extensions, like a checklist widget at the background verification stage to ensure that all documents are verified.

07

Reduce time to productivity

How long does background verification take? What are regularly requested IT assets? Are new employees the cause of delays, or is it the existing workforce? Analyze trends, identify loopholes, and see where you can do better with reports.