Purchase request process template with Orchestly
Here's the blueprint we have created using Orchestly for a generic purchase request process. Yours can be much simpler or more complex, as per your needs.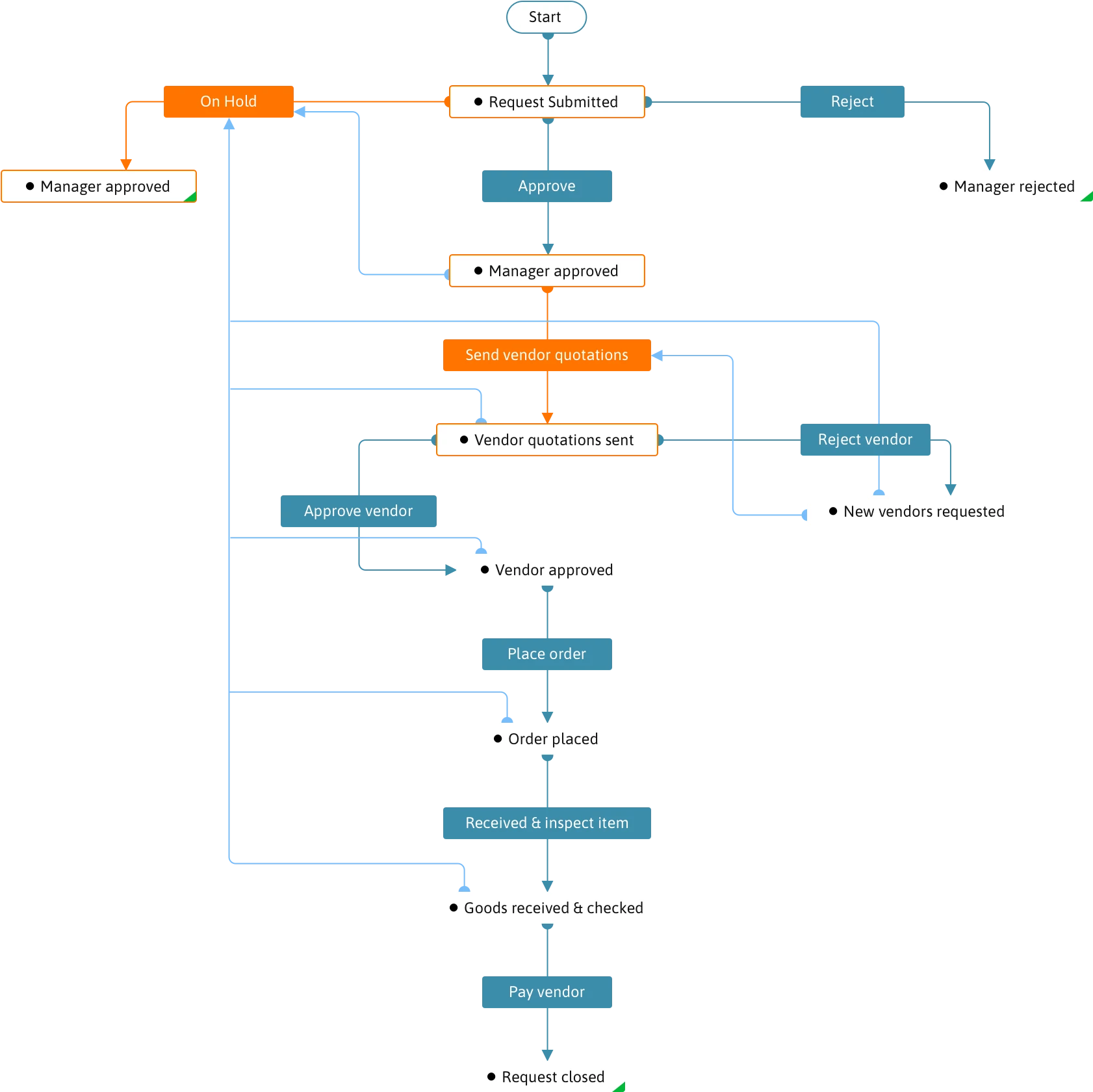 Automate your purchase request workflows with Orchestly
For requesters
For the purchase department
For management
For requesters
01

Submit requests online

We provide a formal platform to submit all purchase requests.

02

Track requests in real time

See if your purchase request has been approved, if vendors have been evaluated, or if the order has been placed.

03

Save time

Avoid spending hours on approvals and follow-ups.
For the purchase department
01

Manage your work

Keep track of your purchase requests in one place, in a timely manner.

02

Be up to date

Automatic notifications let you know what needs to be done, and when.

03

Stay on track

Filter work items to focus on high priority requests, requests from a particular department, requests that are due that week, or any other criteria.

04

Close requests faster

A centralized purchasing system ensures improved turnaround times.
For management
01

Prevent fraud

Consult a complete audit trail of all purchase requests. With the workflow automated, everything stays on the up and up.

02

Customize workflows

Set up workflows as simple or as detailed as you need them.

03

Automate actions

Automate stages that don't require human input, to keep your process running smoothly.

04

Expedite requests

Understand where the process is lagging, if it has to be fine-tuned, or if employees need to be trained better.
How can you manage purchase requests with Orchestly?
The process usually starts when a team submits a request form. This can go through a few levels of approval, at which point the purchase department evaluates a handful of vendors, selects the best deal, places the order, receives and inspects the items, and finally pays the vendor. There are several gaps in this process that can be automated with Orchestly to expedite these purchase requests.
01

Define responsibilities

Assign every stage to a particular employee, role, or team.

02

Automate stages

Automate manager approvals if the request is under a certain amount, instead of bottlenecking on small purchases.

03

Get info on the go

Access relevant information throughout the process. Once a vendor is shortlisted, you can get additional data about the supplier during the vendor approval stage.

04

Customize emails

Trigger customized email notifications for manager approvals, vendor approvals, or after any stage you choose.

05

Send alerts and notifications

SMS or Slack notifications for approvals can be sent using webhooks, minimizing the delay of waiting for people to check their inbox.

06

Add extensions

Use code to add widgets you need. Have a checklist widget at the goods inspection stage to ensure that the items are received properly, or add your database as a widget to select vendors dynamically.

07

Integrate your tools

Connect to other tools you use by writing functions in Deluge. For example, every time a vendor is paid, you can automatically log an entry in your accounting software.

08

Improve procurement cycle time

Reports show if there are delays in vendor payments, if employees are overloaded, what the usual cycle time for a purchase request is, and more.