Accounts payable process template with Orchestly
Here's the blueprint we've created for a generic accounts payable process, using Orchestly. Yours can be much simpler or more complex, as per your needs.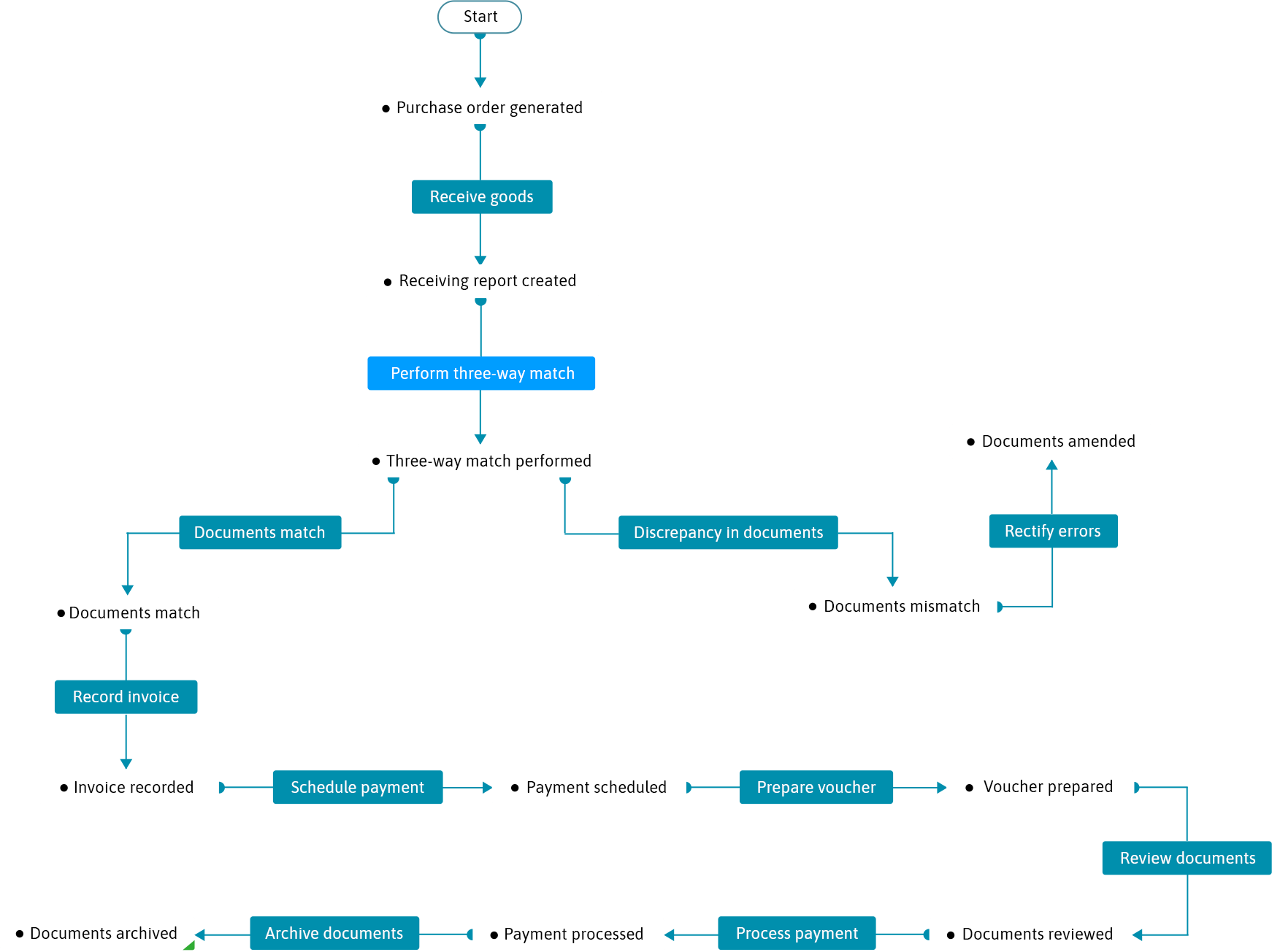 In the above process, once a purchase order is generated, it's sent to the vendor and the receiving department, while a copy is filed for internal storage. A receiving report is generated by the receiving department after the goods/services are received. Then, a three-way match is performed, where the purchase order, receiving report, and vendor invoice is matched. In case of errors, the concerned parties are alerted, and documents are amended. After making doubly sure that all documents match, the invoice is recorded and payment is scheduled based on the terms agreed. A voucher is prepared and documents are verified once again, before processing the payment on the scheduled date. Post payment, the paperwork is archived for auditing purposes.
Benefits of managing your accounts payable process with Orchestly
01

Pay on time, all the time

Automate reminder emails with SLAs and eliminate late payments.

02

Manage cash flow better

Automate payment schedules and pay bills only when they're due by utilizing the credit facility provided by vendors.

03

Centralize payments

Keep track of all company spend from one platform.

04

Access contextual information

Access relevant information from third-party systems by integrating with them through APIs.

05

Stay audit-ready

Verify compliance issues, answer nonpayment claims, and satisfy audits effortlessly with centralized information and audit trails.

06

Ensure uninterrupted business

Avoid overdue charges, penalties, and double payments to ensure smooth relationships with your vendors.

07

Make informed decisions

Have greater control and visibility over the process, and focus on problem areas with built-in, personalized reports.