Ad creation process template using Orchestly
Here's the blueprint we have created using Orchestly for a generic ad creation process. Yours can be much simpler or more complex, as per your needs.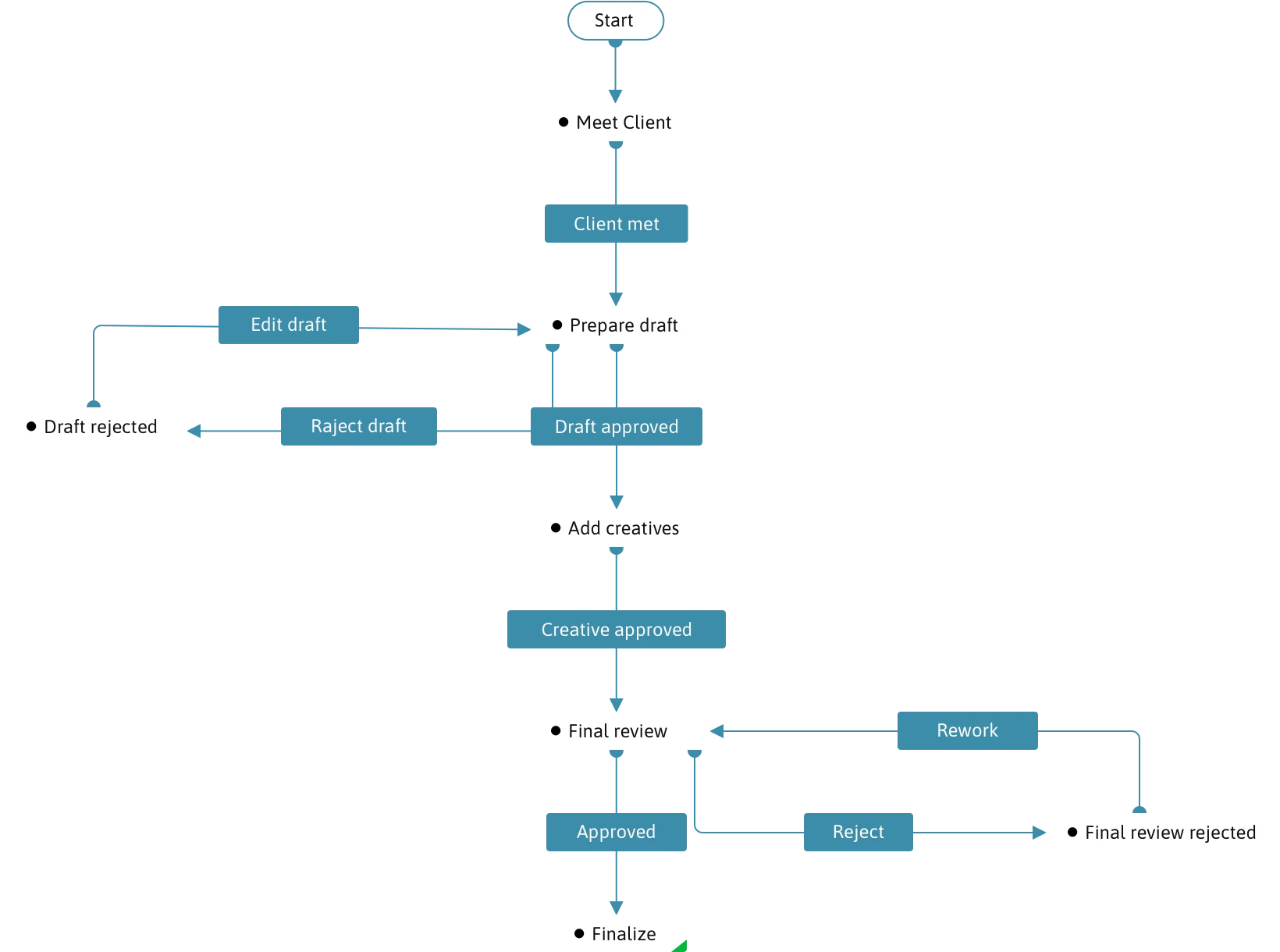 Advantages of streamlining your process with Orchestly
For requesters
For employees
For management
For requesters
01

Accountability

Make sure the work you start gets finished, without setbacks.

02

Avoid delays

No more wasting time on reminders and approvals for drafts.

03

Real-time tracking

Track your design process, and watch your workflow as it happens.
For employees
01

Better communication

Avoid silos, and eliminate the need to notify teams every time a task is completed.

02

Define processes and duties

Set boundaries and clarify the roles and responsibilities of employees, to help prevent confusion.

03

Visual representation of workflow

With the blueprint feature, you can keep an eye on the progress of your workflows.
For management
01

Cost effective

Identify what's not contributing to your profits, and save time and money, as records are automatically saved on Orchestly.

02

Pinpoint bottlenecks

Finding bottlenecks is easy with Orchestly. Figure out where your team's lagging and where it's excelling. 

03

Identify risks

Determine risk factors with reports. Set up reports to track down anomalies and KPI.
How can you manage your process with Orchestly?
Orchestly helps you simplify your process by breaking it down into stages. Create a blueprint for your tasks at hand, and assign teams or people to their respective stages. Get notifications of completed tasks to stay updated, and keep an eye on your jobs from wherever you are. Get the most out of your company, with Orchestly.
01

Organized

With the workflow already laid out, your process can run smoothly from one stage to the next.

02

Track work completed, in real time

Track and record work as it happens, all completed by multiple teams on the same platform.

03

Less human error

People make mistakes, especially when passing on information from one team to another—Orchestly helps eliminate it.

04

Save time and resources

Refine your workflows, and cut down on unnecessary expenses, meetings, and calls by observing the progress of your process.

05

Transparency

Communicate expectations clearly and fairly, with well-defined roles and responsibilities.

01

Cloud security

Storing records digitally, on the cloud, is safer and easier. No more lost paperwork, forgotten attachments, or crashed servers.

02

Make better business decisions

Use reports to evaluate your teams, employees, and jobs you've completed.

03

Send notifications

Deliver instant reminders to teams involved in a task, with webhooks.

04

Create customized functions

Design tailor-made functions with basic-level coding.