What's new with Orchestly
2019
Jul
Features
Parallel transitions in blueprint
Users can now add more than one transition from a single stage of the blueprint called a parallel transition. All of these parallel transitions need to be completed to move to the next stage of the blueprint. 
Read more
New
Go mobile with Orchestly
Users can work on the go using Orchestly's iOS and Android apps. The help documentation for Orchestly's mobile apps are now live. 
Read more
Enhancement
New placeholder in email templates
You can now add a Job ID placeholder while drafting email templates in Orchestly. 
Enhancement
View job count in reports
While generating reports for the number (Count) of jobs, users will be able to view the Total Jobs legend in reports. 
Enhancement
Return types for standalone custom functions
You can now set return types while creating standalone custom functions in Orchestly. Job-based custom functions will return only void. 
Read more
Enhancement
Autosave previous job's layout
Orchestly can now remember your previous choice of layout while creating new jobs. 
Jun
Features
Mention or tag users in comments
You can now mention your organization's users in job comments. The mentioned users will receive notifications. 
Read more
Features
Sample layouts and blueprints
We've populated a set of sample blueprints and layouts in each organization. You can customize these layouts and blueprints to fit your business processes. 
A couple of new shortcuts have been added to your profile in Orchestly. Navigate to the right corner of your screen and click your profile to access the shortcuts for:
What's New with Orchestly. 
Enhancement
Customizing field arrangements in sections
Previously, all the fields in layouts were displayed in a single column. Now, you can choose between single and double columns to display the fields. We've also slightly modified the UI for adding a job. 
Read more
Enhancement
Updates in notification settings
Users can configure their preference in the notification settings section for receiving email and push notifications. 
Read more
May
Blogs
Announcing Orchestly- orchestrate your business workflows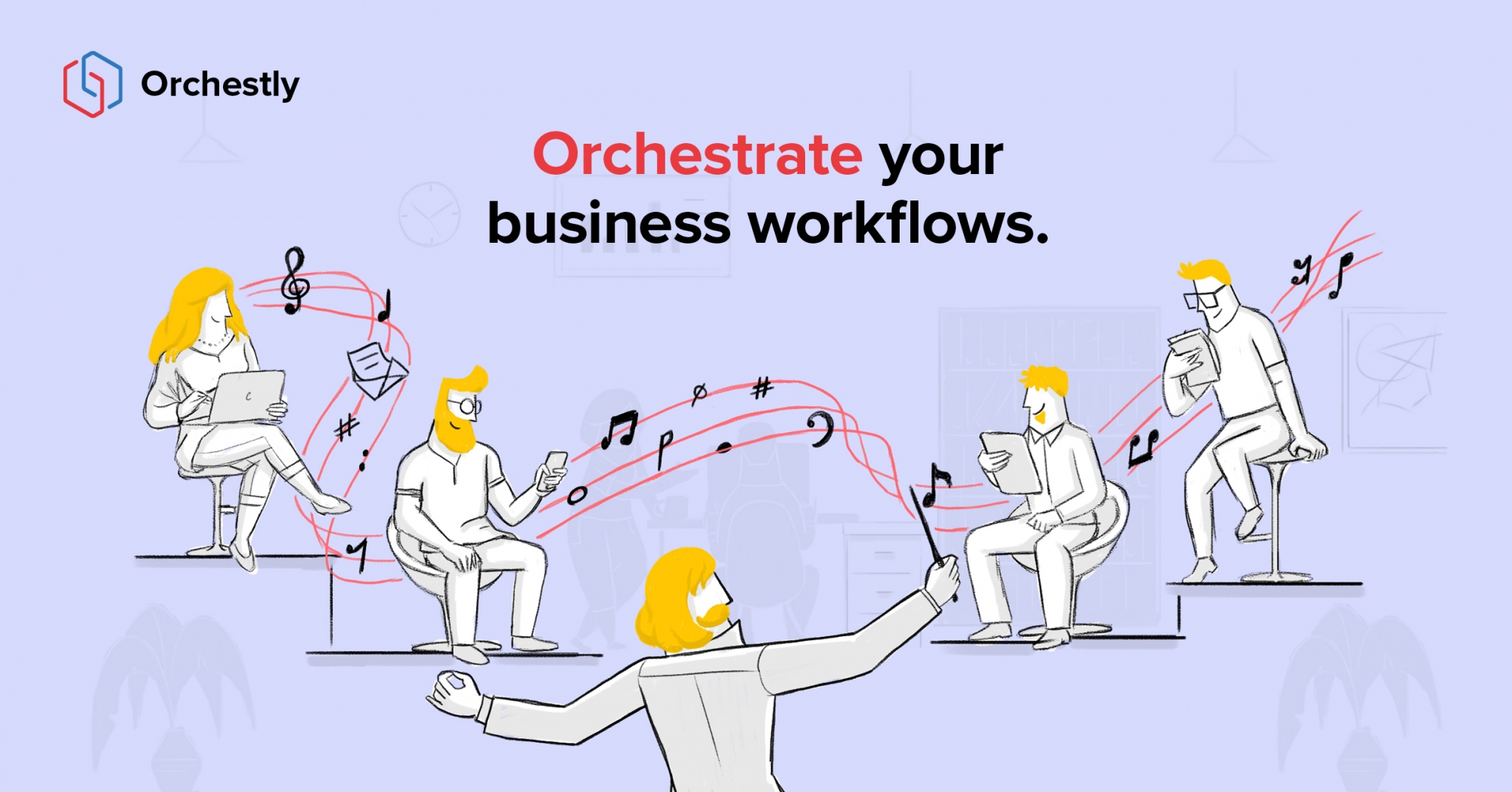 Orchestly is a business orchestration platform to design, automate, and analyze all your business processes.
Read more
Features
REST APIs in custom functions
We've introduced OAuth 2.0 protocol to access REST APIs ensuring secure authentication of custom functions.  
Features
Custom email domain
Customize the sender address of email notifications sent from Orchestly.
Read more
You can now add currency fields to the layouts. 
Read more
Features
New option to plot reports
We've added a new option (Assigned Time) to plot the x-axis of your graph from the Plot For dropdown. 
Enhancement
Add multiple options
Add multiple dropdown and user dropdown options in one go while adding the corresponding fields to layouts. 
Enhancement
Share column customization
You can choose to allow all users in your organization to modify the column view.  
Enhancement
Navigate from reports to jobs
Mouse over the report and click to navigate to the corresponding job. 
Enhancement
Date filter in reports
Refine your reports with a Job Date and Report Period. 
Enhancement
Navigation added to link fields
Link fields listed in the job custom view are now clickable.
Issue-Fix
Network issue for blueprint transitions
The inactivity issue while configuring transitions in a blueprint when connected to a slow network is now resolved. 
Issue-Fix
Blueprint deletion cache issue
After deleting a layout with blueprints in it, the deleted blueprints were still listed in the blueprint list because of cache. This issue has been fixed now.