Standardize and streamline your performance evaluation process
Here's a simple blueprint for a performance appraisal process. Your own blueprint can be customized according to the specific process in your organization.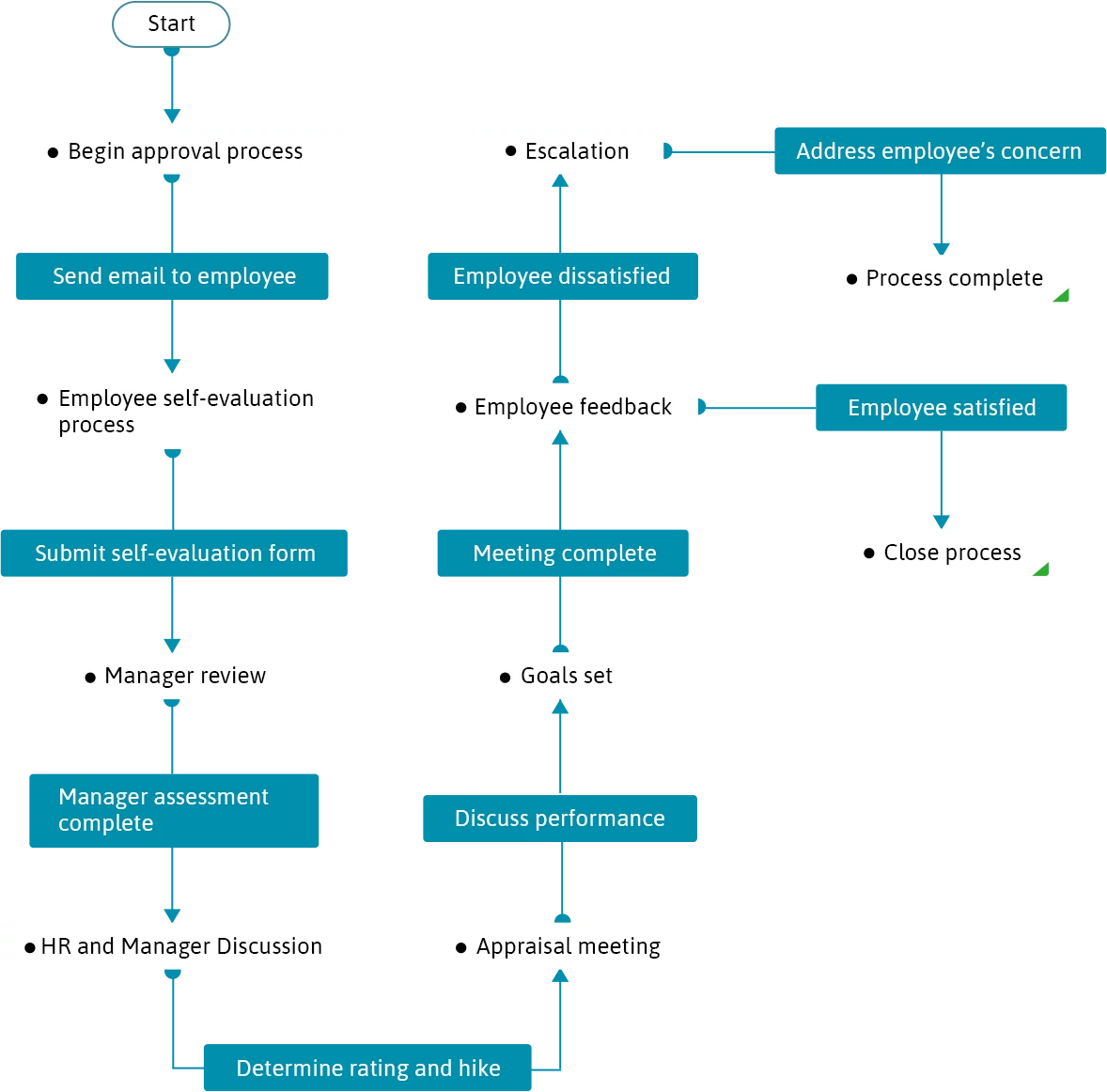 In this blueprint, HR initiates the self-evaluation process, and sends an email to the employee with the link to their self-evaluation form. The employee completes their self-evaluation and submits their form. This then notifies the employee's manager. The manager reviews the employee's performance with the help of the employee's self-evaluation form, and the manager meets HR to determine the employee's rating and raise.
At this point, the employee and the manager meet, discuss the employee's rating and raise, and together set performance goals for the future. After this meeting, the employee is allowed to escalate if they're unhappy with the outcome. The escalation is received by senior managers and promptly dealt with. Once the process is complete, the revised salary is automatically fed into the payroll system via Orchestly.
How does using Orchestly benefit your performance appraisal process?
01

Streamlined processs

Monitor and track the progress of every evaluation, and hold managers accountable for their decisions.

02

On-time completion

Avoid delays by setting up SLAs that take care of recurrent reminders needed to get the process completed on time.

03

Promote transparency

Make the process visible to all stakeholders, to create a transparent work environment and ensure unbiased evaluations.

04

Employee satisfaction

Improve employee happiness by listening to their concerns and incorporating their feedback into the process.

05

Perspective into performances

Leverage reports to better understand overall performance trends in the company, and plan work accordingly.

06

Track individual growth

Record the SWOT and observational data of every employee, review them at periodic intervals, and accurately determine who deserves that promotion.